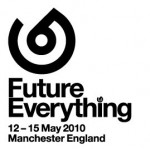 We are pleased to be able to unveil the programme for our night on Friday 14 May as part of the FutureEverything Festival Showcase. We had a wonderful response to our first ever open call for works and it wasn't easy picking out our final programme, but we are very excited to be performing the following pieces at Centro Bar that night:
Passacaglie, for cello and electronics – Martin Suckling
I Don't Know What To Do With My Life, for clarinet and kick drum – Luke-Matthew Iveson
The Golden Lion Hotel, for percussion and electronics – Chris Swithinbank
Avian Riots, for ensemble – Tom Coult
Richter VS Dragon, for ensemble and backing track – Steve Pycroft
Aqueleyo-yo, for string quartet – José Puello
Dubsteps, for string quartet – John Davies
These will be followed by a set from DJ Al Sonar of Hit&Run fame. Keep your eyes peeled for more details about the night coming soon.