As part of the University of Manchester's MANTIS Festival, Mauricio Pauly and Sam Salem present a collaboration with Italian virtuoso Francesco Dillon in an evening of contemporary music for cello and electronics in the heart of Manchester's vibrant Northern Quarter.
Programme
New work for cello and diffused audio – Mauricio Pauly and Sam Salem
Double Contour, for cello and computer – Kumiko Omura
Psalm, for cello and electronics – Juste Janulytė
Oog, for cello and soundtrack – Michel Van der Aa
Curve with plateaux, solo cello – Jonathan Harvey
Venue
Nexus Art Café
2 Dale Street, Northern Quarter, Manchester, M1 1JW, UK (View map)
More about the people involved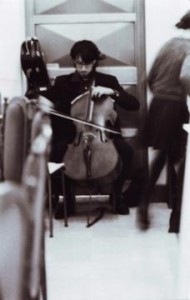 Italian cellist Francesco Dillon (Alter Ego, Quartetto Prometeo) was recently featured in the 4th volume of Giacinto Scelsi works along with Orchestra Sinfonica della RAI. He has recorded for the labels Aulos, Dynamic, Ricordi, Stradivarius and Touch and he recently released the world premiere recording of Variazioni for cello and orchestra by Salvatore Sciarrino on the KAIROS label. You can watch and listen to Francesco playing Britten, Rachmaninoff, Schumann and Zemlinsky with duo partner Emanuele Torquati here.
Born in Costa Rica, composer Mauricio Pauly is currently based in Manchester. He has recently been awarded the prestigious Staubach Honoraria commission for a new work to be premiered by Oslo-based ensemble Asamisimasa at the 45th International Summer Course for New Music in Darmstadt, Germany, in 2010. His new string quartet was premiered in New York by the JACK Quartet on 11 February 2010.
Sam Salem is a multimedia artist and acousmatic composer whose music has most recently been performed/exhibited in Montreal (ICMC09), New York (NYCEMF), Berlin (SMC 08), Valencia (Digital Media 1.0) and around the UK and Scandinavia (as part of the Wet Sounds '09 tour).